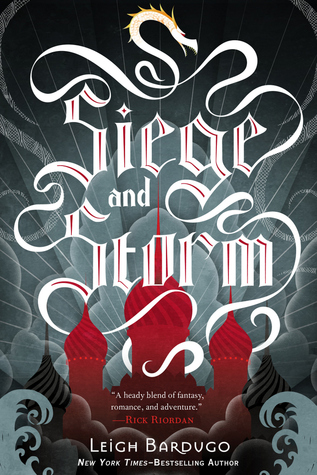 Book Title: Siege and Storm
Author: Leigh Bardugo
Genre: Tsarpunk
★★★★★ (4.5 stars)
Hunted across the True Sea, haunted by the lives she took on the Fold, Alina must try to make a life with Mal in an unfamiliar land. She finds starting new is not easy while keeping her identity as the Sun Summoner a secret. She can't outrun her past or her destiny for long.
The Darkling has emerged from the Shadow Fold with a terrifying new power and a dangerous plan that will test the very boundaries of the natural world. With the help of a notorious privateer, Alina returns to the country she abandoned, determined to fight the forces gathering against Ravka. But as her power grows, Alina slips deeper into the Darkling's game of forbidden magic, and farther away from Mal. Somehow, she will have to choose between her country, her power, and the love she always thought would guide her–or risk losing everything to the oncoming storm.
– Goodreads
This is a sequel to Shadow and Bone. If you haven't picked it up yet, I recommend you to do so. So far it's not an action-packed series, but the characters and world building are amazing… So bye! Non-spoiler people!
Tsarpunk
The edition I have includes a Q&A session with the author. One of the questions is about the genre of The Grisha trilogy. It could be classified as High Fantasy or Epic Fantasy, but Leigh Bardugo prefers 'Tsarpunk'.
So how do you define Tsarpunk?
I'll say that Tsarpunk is fantasy that takes its inspiration from the aesthetics, culture, politics, and social structure of early 19th century Russia. – Leigh Bardugo
[ Read the full interview here: http://ageofsteam.wordpress.com/2012/04/25/genre-friction-what-is-tsarpunk-by-leigh-bardugo/ ]
'Tsarpunk' sounds cool 😂 I'm learning Russian history at school right now and I wrote 'Tsarpunk' all over my notes to keep myself from falling asleep. (Shouldn't be doing that. Whatever.)
Later when people ask me what genre is this trilogy classified as, I'm definitely going to say 'Tsarpunk'
Okay. Enough Tsarpunk. Now let's move on to my thoughts on the book.
Characters
I love how Leigh Bardugo creates the character – even the hero/heroine have their dark side. It makes the characters more human. And this (in addition to the amazing world-building) are the reasons why I still love this trilogy though it's not that action-packed.
Alina
I was so afraid that Alina would be power-hungry and eventually become the next Darkling (Lightling, maybe). And the fact that she doesn't tell Mal about the appearances of the Darkling irritates me. I hate it when characters keep 'secrets' from each other. However, as I've said before, heroine has her dark side, so although I don't really like her in S&S, her character is interesting.
Mal
I'm never fond of Mal. His relationship with Alina in this book bugs me a lot, but I'm going to wait till I finished the whole series before I comment on his character.
Sturmound
If he doesn't turn evil, he's probably my favourite character in this trilogy. He is just AWESOME, but I don't trust him yet.
Faith
Sankta Alina
I like how Leigh Bardugo made the pilgrims worship Alina as a saint. There are something or some messages behind 'faith', but I'll have to wait untill I finish the whole trilogy (again) before I talk about it.
The Ratings
The plot of Siege and Storm is pretty good – there are surprises, politics and actions.
The first 2/3 of the book is kind of slow. After coming back to Ravka, the characters have to deal with their personal matters, so that part is not gripping at all. I was ready to give it a 4/5 stars. But then there's Nickolai's birthday, and things start to get intense. The final battle is just EPIC. I loved it so much, I just can't give it a rating lower than S&B.
It's not a 5/5 stars because I really don't like Alina keeping secrets, and Mal kind of bugs me. But I'm looking forward to their character development in R&R.
I'm probably going to do a discussion post on the trilogy as a whole.