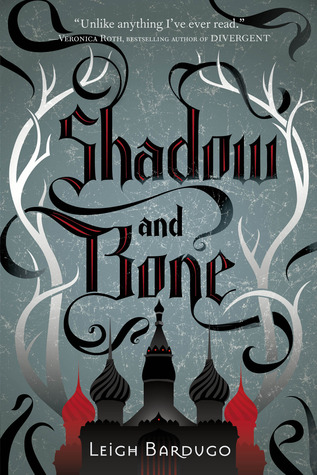 Book Title: Shadow and Bone
Author:  Leigh Bardugo
Genre: YA Fantasy
★★★★★ (4.5 stars)
Surrounded by enemies, the once-great nation of Ravka has been torn in two by the Shadow Fold, a swath of near impenetrable darkness crawling with monsters who feast on human flesh. Now its fate may rest on the shoulders of one lonely refugee.
Alina Starkov has never been good at anything. But when her regiment is attacked on the Fold and her best friend is brutally injured, Alina reveals a dormant power that saves his life—a power that could be the key to setting her war-ravaged country free. Wrenched from everything she knows, Alina is whisked away to the royal court to be trained as a member of the Grisha, the magical elite led by the mysterious Darkling.
Yet nothing in this lavish world is what it seems. With darkness looming and an entire kingdom depending on her untamed power, Alina will have to confront the secrets of the Grisha . . . and the secrets of her heart.
Shadow and Bone is the first installment in Leigh Bardugo's Grisha Trilogy.- Goodreads
I read this back in February. I decided to re-read it because now I own the whole trilogy. Marathon time!
The First Read
It took me quite a while to get used to the world. Back then I haven't read many fantasy novels so I was quite unfamiliar with what to expect. The names and places were confusing and at some point I had no idea what was happening.
But still, the story was gripping and I loved it.
As I have a bad memory, I don't really remember my thoughts towards the book. I just know that I was tricked by the Darkling (how naive).
The Second Read
I thought I would forget the whole plot, but I went in knowing what to expect and what's going to happen in this book, so it wasn't an exciting and thrilling read. (How I wish I could erase my memory and read it again for the first time) However, I did 'discover' some details that I've missed in the first read.
The Description
I overlooked the vivid descriptions. I knew the palace is beautiful, I knew the kefta is beautiful, but I didn't pay attention to the words. I just labeled them in my mind as 'beautiful' – they were blurry images in my mind. It's the process of re-reading it that made me realised how much beauty I've missed.
Belonging somewhere
I'm not like you, Mal. I never really fit in the way you did. I never really belonged anywhere.
Alina and Mal are both orphans, but Alina feels like she never really belonged anywhere. Grisha? She's kind of an outcast and doesn't really fit in those regular summoners. She belongs to Mal, but she also belongs to herself.
Sometimes we try really hard to fit in somewhere. We feel insecure being ourselves because people will think that we're strange. 'Eww weird'
Alina used all her energy and will to suppress her power when she was small. She didn't want to face the truth because she didn't want to leave Mal. Now I'm not criticising her decision, it just reminds me that a lot of the time we refuse to be ourselves just to fit in.
The problem with wanting is that is makes us weak. How right he was. I'd wanted so badly to belong somewhere, anywhere. I'd been so eager to please him, so proud to keep his secrets. But I'd never bothered to question what he might really want, what his true motives might be. I'd been too busy imagining myself by his side, the savior of Ravka, most treasured, most desired, like some kind of queen.
The Ratings
Shadow and bone is close to perfect, but I didn't give it a 5 out of 5 stars because I just feel like there's something missing. The world building and the characters like Genya and the Darkling are amazing, but it's not action-packed enough for me. Also, I didn't really enjoy the 'running-away' part because it's kind of a common thing and sometimes it bugs me. This is a totally personal thing, objectively speaking there's nothing wrong with this book, I just feel like it hasn't reached the level of pure epicness.
∞ ϟ 9¾ ♔ ⚯͛ △⃒⃘ ➵ ♆
I'm definitely excited for the sequels! What do you think of Shadow and Bone? Do you like it? Are you attracted to the Darkling? Comment down below your thoughts!