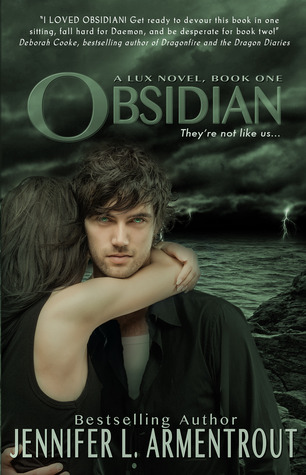 Book Title: Obsidian
Author: Jennifer L. Armentrout
Genre: YA Sci-fi
★★★★
Starting over sucks.
When we moved to West Virginia right before my senior year, I'd pretty much resigned myself to thick accents, dodgy internet access, and a whole lot of boring… until I spotted my hot neighbor, with his looming height and eerie green eyes. Things were looking up.
And then he opened his mouth.
Daemon is infuriating. Arrogant. Stab-worthy. We do not get along. At all. But when a stranger attacks me and Daemon literally freezes time with a wave of his hand, well, something… unexpected happens.
The hot alien living next door marks me.
You heard me. Alien. Turns out Daemon and his sister have a galaxy of enemies wanting to steal their abilities, and Daemon's touch has me lit up like the Vegas Strip. The only way I'm getting out of this alive is by sticking close to Daemon until my alien mojo fades.
If I don't kill him first, that is.
– Goodreads
I read this book within a day so you can tell that it's a page-turner. I had loads of homework to do but I just can't stop reading it (at last I ditched the homework 😂). The Lux series is pretty well-known, but if you haven't read it yet, go read it now! I promise that it'd be an enjoyable read.
The Characters
The main character, Katy, is a book-blogger (my blog is better than your vlog B) ). At one point she was like 'oh I need to post Waiting on Wednesday' and I was like 'oh yeah I really need to post it. It's wednesday already.' Coincidence? I think not. She's sociable, brave and kickass, unlike the stereotypical description of a book nerd/ book blogger – introverted, hate parties, socially awkward etc. (disclaimer: there is absolutely no problem with being a stereotypical book nerd)
I also like how Daemon and Katy are still friends but not in a relationship yet. And they don't frustrate me because they say what they think about each other (Daemon, you're a jerk) instead of keeping it to themselves.
The Rating
The reason why I didn't give it a five out of five stars is because there are not much epic stuff happening before we reach the fight at the end. For someone who loves action and adventure, most of the book is too 'calm'. However, I'm pretty sure more awesomeness is coming and I am looking forward to it 😀
The Cover
At first I was kind of reluctant to pick up this book because of the cover. I don't like covers with real people on it, and this cover just look so… unattractive. The new covers have half a face on it, which is better than this one, but still.
∞ ϟ 9¾ ♔ ⚯͛ △⃒⃘ ➵ ♆
That's it! My thoughts on Obsidian by J.L Armentrout. I'm really excited to learn more about those aliens in the next book!