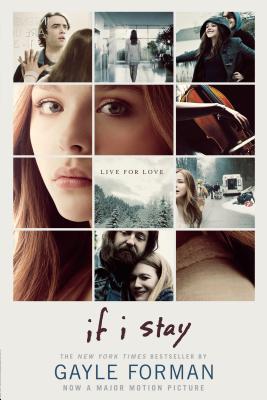 Book Title: If I Stay
Author: Gayle Forman
Genre: YA Contemporary
★★★★
The critically acclaimed, bestselling novel from Gayle Forman, author ofWhere She Went, Just One Day, and Just One Year.
In the blink of an eye everything changes. Seventeen-year-old Mia has no memory of the accident; she can only recall what happened afterwards, watching her own damaged body being taken from the wreck. Little by little she struggles to put together the pieces- to figure out what she has lost, what she has left, and the very difficult choice she must make. Heartwrenchingly beautiful, this will change the way you look at life, love, and family. '
Now a major motion picture starring Chloe Grace Moretz, Mia's story will stay with you for a long, long time.- Goodreads
Mia got into an accident and is in a grave condition. Her parents and brother were dead, so she's left here, in the no man island between life and death, wandering. Her soul's separated from her body, witnessing all the events happened after the accident and having flash backs on her life. She needs to decide whether or not she'll stay. Will she leave her parents and her brother or will she leave Adam, Kim and other relatives and friends.
Even though this is not an action book, it's a page-turner. I find myself flying through the story. The idea of having Mia's soul separated from her body is very interesting, and it definitely helped bringing out the fact that Mia is having a hard time choosing whether or not she'll stay.
It is said to be a very emotional book, but I didn't feel emotionally connected to Mia at all. (what. weird.) However, it's definitely one of the 'deep' books that get you into thinking about the meaning of life. *derp face*
Choices
Very often in our lives, we need to choose. Whether it's about which subject to take, which book to read or which job to apply for, we need to decide. There's a quote that really stood out to me in this book:
Sometimes you make choices in life and sometimes choices make you.
This is unsurprisingly true. Without the choices you made in the past, you wouldn't be who you are today. You choose to read this particular book, and after finishing it, you're different. You've changed. Even if you didn't realise it. The yesterday's you is different from today's you.
If you were Mia, would you stay?
I definitely would. It's too young to be gone. I'd feel like I haven't had enough time on earth. I'd feel like I haven't lived life to the fullest.
∞ ϟ 9¾ ♔ ⚯͛ △⃒⃘ ➵ ♆
Overall, this is a light read and is definitely enjoyable. If you were Mia, would you stay? Comment down below your thoughts and let's discuss!